Dolphin Fishing Charters for Miami, Florida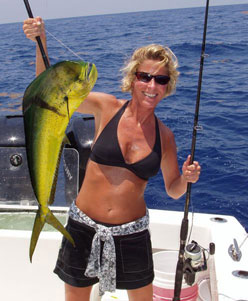 Often called mahi-mahi or dorado, the dolphin (not related to the more well-known marine mammal) is a great fish for both beginners and seasoned anglers. Dolphin provide high flying action as they are very acrobatic once hooked. Their colors are dazzling as well with hues of green, blue and silver all mixed in. Besides the color and high flying action, dolphin are absolutely great table fare.
Different Tactics for Different Seasons
Dolphin are another fish that can be caught year round in Florida, but the tactics used can vary from season to season. Most often, dolphin are caught while using live baits on the "edge". The edge is typically from 100 feet in depth to 250 feet, and where the blue offshore water meets the greener inshore water. This edge is only a few miles from Miami's shore. Most often we will be targeting sailfish on the edge but quite often a few mahi mahi will join in on the party.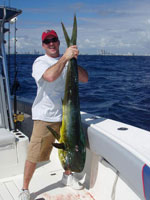 Dolphin can range from only a few pounds to upwards of 50 pounds. Some of the larger dolphin are usually taken while kite fishing with live baits. The second tactic used for targeting dolphin usually occurs in the late spring and summer. Vast schools of dolphin can be found offshore in the Gulfstream. These schools can be a few miles from shore or upwards of 30 miles offshore.
Typically when dolphin fishing in the Gulfstream, we are looking for diving birds or large pieces of debris. The debris can be almost anything and large patches of Sargasso weed are good as well. The seaweed or debris attracts bait, which in turn will attract dolphin.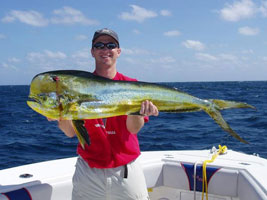 The dolphin that are found in large schools are typically much smaller and average from a few pounds to schools of 10 pounders. What they may lack in size though, they can make up in sheer numbers. You can hook a dolphin and look down and literally see hundreds of other mahi mahi in the school.
Dolphin Fishing Tournaments
Trolling offshore in the Gulfstream also works well and many big dolphin have been taken that way. In the summertime in South Florida and Miami, it is not uncommon to have a few dolphin tournaments every weekend. Dolphin are a very popular fish and rightly so!
Book Your Fishing Trip and Land Some Huge Dolphin
Come and join us on board for an unforgettable fishing experience. Call Capt. Dean Panos on (954) 805-8231 or send us an email at [email protected]. Our trips depart from the Keystone Point Marina in North Miami.
Learn more about our charter trips.